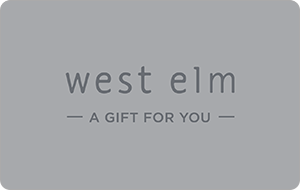 West Elm sell gift card for cash
Did you receive a West Elm gift card that you don't plan on using? No problem! SellGift.Cards is here to help you convert that unwanted gift card into extra cash or credit toward a card you genuinely need. In this article, we'll discuss the West Elm gift card and how to sell it through our easy-to-use platform, SellGift.Cards.
## What is a West Elm Gift Card?
A West Elm gift card is a prepaid card that allows the recipient to purchase products from West Elm stores or their online website. Renowned for their modern, stylish furniture and home decor, West Elm is a popular choice for gift cards. However, not everyone needs or wants their products, which is where SellGift.Cards comes in handy.
## How to Sell Your West Elm Gift Card on SellGift.Cards
Selling your West Elm gift card on SellGift.Cards is a quick and easy process. Follow these simple steps to get started:
1. Create an account: Register on SellGift.Cards with your email and a password. It takes less than a minute and gives you full control over your transactions.
2. Enter card details: Once logged in, enter the brand name (West Elm), balance, and other necessary details of the gift card.
3. Enter the PIN and gift card number: Provide the PIN and gift card number to verify the card's authenticity.
4. Accept the offer: Review the offer presented to you. If you're satisfied with it, accept the offer, and you'll receive value in return.
5. Get paid: Choose your preferred payment method and get your cash instantly.
## Tips for Selling Your West Elm Gift Card Online
To ensure a smooth and profitable experience while selling your gift card, keep these tips in mind:
- Choose online marketplaces like SellGift.Cards for selling your gift card instead of visiting physical stores or shipping your card, as it saves time and eliminates shipping costs.
- If your gift card has been partially used, you can still sell it online or trade it for another card.
- Don't rush to sell your gift card. Gift cards have no expiry date, so you can wait for the best possible offer before selling.
## Stay Safe and Secure with SellGift.Cards
At SellGift.Cards, we prioritize the security of both buyers and sellers. Our platform offers a safe and reliable space for you to sell your West Elm gift card instantly and electronically. So, don't wait any longer – sign up now and start making extra cash from your unwanted gift card!
Top