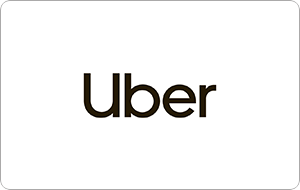 Uber sell gift card for cash
If you have an unused Uber gift card that you don't plan to use, why not turn it into instant cash by selling it online through SellGift.Cards? This user-friendly platform allows you to sell your gift cards quickly and securely, ensuring that you get the best value for your unwanted cards. In this article, we will guide you through the process of selling your Uber gift card using SellGift.Cards, as well as provide helpful tips for a successful and profitable experience.
Step-by-step Guide on How to Sell Your Uber Gift Card on SellGift.Cards:
1. Register and Sign In: Visit sellgift.cards and create an account using your email and password. Registration is quick and easy, and provides you with complete control over your transactions.
2. Enter Card Details: After signing in, provide the necessary information about your Uber gift card, such as the brand name, balance, and card number.
3. Enter PIN and Gift Card Number: To verify the authenticity of your card, enter the PIN and gift card number.
4. Check the Offer: Review the offer presented by SellGift.Cards. If you're satisfied with the proposed value, accept the offer to proceed with the transaction.
5. Get Paid: Choose your preferred payment method and receive your cash instantly.
Top Tips for Selling Your Uber Gift Card on SellGift.Cards:
- Opt for online marketplaces like SellGift.Cards instead of physical stores to avoid shipping costs and delays.
- If your Uber gift card is partially used, consider selling it online or trading it for another gift card.
- Keep in mind that gift cards have no expiry dates, so take your time and sell them when the price and offer are favorable.
Safety Tips for Selling Your Uber Gift Card Online:
SellGift.Cards prioritizes the protection of both buyers and sellers. To ensure a safe and secure transaction, follow these guidelines:
- Only use trusted platforms like SellGift.Cards to sell your gift card.
- Be cautious when providing your personal information and gift card details.
- Monitor the transaction process closely to avoid any potential issues.
Conclusion:
Selling your Uber gift card on SellGift.Cards is a convenient and efficient way to turn it into instant cash. By following the steps and tips outlined in this article, you can enjoy a hassle-free experience and make the most out of your unused gift cards. So, don't wait any longer – sell your Uber gift card today and reap the benefits!
Top