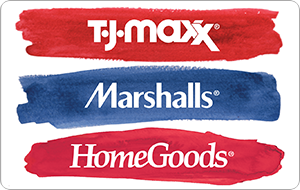 HomeGoods sell gift card for cash
Are you holding onto a HomeGoods gift card that you don't plan on using? Why not turn it into extra cash by selling it on SellGift.Cards? In this article, we will walk you through the steps to sell your HomeGoods gift card on this secure platform, so you can earn some extra money while decluttering your wallet.
Why SellGift.Cards?
SellGift.Cards is a reliable online marketplace that allows users to sell their unwanted gift cards electronically and instantly. With a focus on both buyer and seller safety, you can confidently sell your HomeGoods gift card without any hassle.
How to Sell Your HomeGoods Gift Card on SellGift.Cards
1. Create an account and sign in: To get started, create an account on SellGift.Cards using your email and a password. Registration is quick and gives you full control over your transactions.
2. Enter card details: Once you've logged in, enter the necessary details of your HomeGoods gift card, such as the brand name, balance, pin, and card number.
3. Check the offer: After entering your gift card information, you'll receive an offer for your HomeGoods gift card. If the offer is satisfactory, accept it and move on to the next step.
4. Get paid: Choose your preferred payment method and receive your cash instantly. It's that simple!
Tips for Selling Gift Cards Online
- Always opt for online marketplaces like SellGift.Cards instead of physical stores to avoid shipping costs and delays.
- If your HomeGoods gift card has been partially used, you can still sell it online or consider trading it for another gift card.
- Gift cards have no expiry dates, so feel free to sell them whenever you find the best price and offer.
- High-demand gift cards, such as iTunes or Amazon, can yield more profit when traded rather than sold directly. However, local cards like HomeGoods can still be sold for a fair price.
Stay safe and vigilant when selling your gift cards online. With SellGift.Cards, you can enjoy a secure platform to sell your HomeGoods gift card quickly and efficiently. So, don't wait any longer – sell your card today and earn some extra cash!
Top