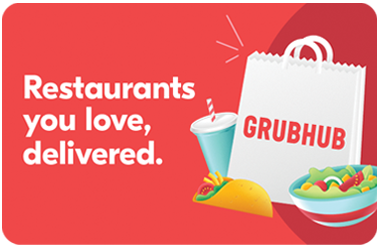 GrubHub sell gift card for cash
GrubHub is a popular food delivery service that connects millions of people to their favorite restaurants. With a GrubHub gift card, you can treat yourself or others to a delicious meal right at your doorstep. However, if you have an unused GrubHub gift card lying around, why not turn it into instant cash? This is where SellGift.Cards comes in – a secure online platform that allows you to sell your gift cards quickly and easily.
Why Sell Your GrubHub Gift Card?
There could be various reasons why you might want to sell your GrubHub gift card. Perhaps you prefer another food delivery service or simply want to convert the card's value into cash to spend as you please. Regardless of the reason, SellGift.Cards provides a hassle-free method to sell your gift card for the best possible price.
How to Sell Your GrubHub Gift Card on SellGift.Cards
Selling your GrubHub gift card on SellGift.Cards is a straightforward process. Follow these simple steps to get started:
1. Create an account on sellgift.cards and sign in using your email and password.
2. Click on the 'Sell Gift Card' option and enter the details of your GrubHub gift card, including the brand name, card balance, pin, and card number.
3. Review the offer provided by SellGift.Cards. If you are satisfied with the offer, accept it and proceed to the next step.
4. Choose your preferred payment method and receive your cash instantly.
Tips for Selling Your GrubHub Gift Card
To ensure a successful sale, keep these tips in mind:
- Make sure to provide accurate card details, including the balance and card number.
- Compare offers from different platforms to find the best deal for your GrubHub gift card.
- Be cautious of scams and only use trusted online platforms like SellGift.Cards.
Stay Safe While Selling Your GrubHub Gift Card Online
SellGift.Cards prioritizes the safety of both buyers and sellers. The platform uses secure encryption and follows strict privacy policies to protect your personal information. With SellGift.Cards, you can confidently sell your GrubHub gift card and receive instant cash, hassle-free.
In conclusion, selling your GrubHub gift card on SellGift.Cards is a quick and easy solution to turn an unwanted gift card into instant cash. Don't let your gift card go to waste – sell it today and enjoy the freedom to spend your money as you wish.
Top