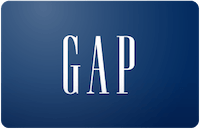 Gap sell gift card for cash
Gap is a well-known clothing and accessories retailer, but if you have a Gap gift card that you don't plan to use, you can sell it on SellGift.Cards. This online platform allows you to sell gift cards electronically and instantly. In this article, we'll guide you through the process of selling your Gap gift card on SellGift.Cards and help you get the best value for it.
Step 1: Register and Sign In
First, visit the SellGift.Cards website and create an account using your email address and a password. Registering provides you with full control over your orders and enables you to track your transactions. Once registered, sign in to your account to begin selling your Gap gift card.
Step 2: Enter Gift Card Details
Once you're logged in, go to the "Sell Gift Cards" section and select Gap as the brand of the gift card you're selling. Input the gift card's balance, pin, and number. It's important to provide accurate information to ensure a smooth selling process.
Step 3: Review and Accept the Offer
After entering the necessary details, SellGift.Cards will present you with an offer for your Gap gift card. Carefully review the offer, and if you're satisfied, accept it to proceed with the transaction. Keep in mind that the platform takes into account factors such as the card's balance, demand, and current market value to determine the offer.
Step 4: Receive Your Payment
The final step involves selecting your preferred payment method and receiving your cash instantly. SellGift.Cards offers various payment options, including PayPal, direct bank transfers, and more.
Tips for a Successful Gift Card Sale
1. Sell your gift cards on reliable online platforms like SellGift.Cards to avoid shipping costs and the limitations of physical stores.
2. If your gift card is partially used, consider selling it online or trading it for another card.
3. Gift cards typically don't have expiration dates, so you can sell them at any time to get the best possible offer.
Conclusion
Selling your Gap gift card on SellGift.Cards is a straightforward and secure process that allows you to turn your unused gift cards into cash quickly. By following this step-by-step guide, you'll be able to get the best value for your card while avoiding potential risks associated with online transactions. Don't let your Gap gift card go unused – sell it on SellGift.Cards today and enjoy some extra cash in your pocket!
Top