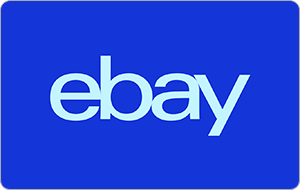 Ebay sell gift card for cash
Order an eBay gift card quickly and without overpayments
eBay e-certificate - an instant gift for any event! Do you want to congratulate friends and relatives from a distance? It's simple! Sell the certificate online, and you can send it by mail or to your mobile phone.
Trade gift cards are made in any way convenient for the buyer, including cash.
Certificate Benefits
With an eBay gift certificate, making gifts is convenient, easy, and pleasant!
The benefits of an eBay e-Gift Certificate are as follows:

Prompt delivery!
● Implementation of card transactions instantly online.
● No need to wait for the courier, the card is sent by e-mail.
● Giving is easy!
● Allows you to choose any product from the proposed range of eBay.
Principles of using a gift card
A gift certificate is a universal and convenient way to pay for purchases on eBay. The card has no expiration date and does not require additional payments during the period of non-use.
You can find additional requirements and conditions on the back of the card or certificate or in the notes to the electronic card.
Top