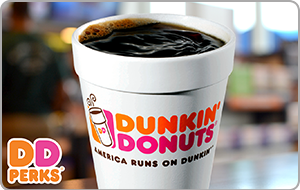 Dunkin Donuts sell gift card for cash
Get Cash for Your Unused Dunkin Donuts Gift Card: Simple and Safe Solutions
Do you have a Dunkin Donuts gift card that you don't plan on using? Instead of letting it go to waste, turn it into cash through a safe and simple process. In this article, we'll explore the different options available to sell your Dunkin Donuts gift card and provide tips to help you get the most value from your card.
Options to Sell Your Dunkin Donuts Gift Card
1. Online Gift Card Exchange Websites
There are several online platforms dedicated to buying and selling gift cards, making it easy for you to sell your Dunkin Donuts gift card for cash. Websites like Raise, CardCash, and Gift Card Granny offer a straightforward process to sell your card: enter your gift card's details, receive an offer, and complete the transaction. Be sure to compare payout rates and fees across platforms to find the best deal.
2. In-Person Gift Card Exchange Kiosks
Gift card exchange kiosks, such as Coinstar Exchange, can be found in many grocery and retail stores. These machines allow you to sell your Dunkin Donuts gift card for cash on the spot. Insert your gift card into the kiosk, receive a cash offer, and, if you accept, a voucher will be printed for you to redeem at the store's customer service desk. Note that these kiosks may provide lower payouts compared to online platforms.
3. Sell to Friends or Family
If you know someone who loves Dunkin Donuts, consider offering your gift card to them directly. This method allows you to avoid fees or commissions, benefiting both parties. Just be sure to agree on a fair price beforehand.
4. Online Marketplaces and Social Media
You can also attempt to sell your Dunkin Donuts gift card on online marketplaces like eBay or local classified websites. Alternatively, post on social media to gauge interest among your connections. While this option may yield a higher payout, exercise caution to avoid potential scams and ensure secure transactions.
Tips for a Successful Selling Experience
- Verify your gift card balance before selling, as this information is crucial for potential buyers and platforms determining payout amounts.
- Keep your gift card's physical and digital information secure to prevent unauthorized use.
- Research and compare different platforms and methods to find the best payout rate for your Dunkin Donuts gift card.
- Prioritize secure transactions and remain vigilant against potential scams.
In summary, selling your Dunkin Donuts gift card for cash is a quick and easy way to make the most of an unwanted gift. Consider the options mentioned above to find the best solution for you, and soon enough, you'll have extra cash in your pocket.
Top