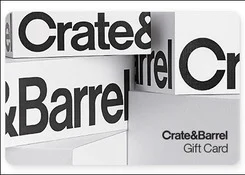 Crate & Barre sell gift card for cash
Are you looking to sell your unused Crate & Barrel gift card? SellGift.Cards offers a quick and secure solution for converting your gift card into instant cash. In this article, we'll walk you through the straightforward process of selling a Crate & Barrel gift card on SellGift.Cards.
Step 1: Register and Sign In
Head over to SellGift.Cards and create an account using your email address and a password. This quick registration process provides you with full control over your transactions.
Step 2: Provide Your Card Details
Once logged in, input the necessary information about your Crate & Barrel gift card. This includes the brand name (Crate & Barrel), card balance, gift card number, and PIN. Make sure to double-check your details for accuracy.
Step 3: Review and Accept the Offer
After submitting your card information, you'll receive an offer for your Crate & Barrel gift card. Take a moment to examine the offer, and if it meets your expectations, accept it to proceed with the sale.
Step 4: Choose Your Payout Method and Receive Cash
The final step involves selecting your preferred payment method and receiving your cash instantly. SellGift.Cards offers various payout options to accommodate your needs.
Tips for Selling Your Crate & Barrel Gift Card
Keep these handy tips in mind when selling your Crate & Barrel gift card online:
1. Opt for online marketplaces like SellGift.Cards to avoid shipping costs and delays associated with physical stores.
2. If your gift card has been partially used, consider selling it online or trading it for another gift card.
3. Since gift cards typically have no expiry date, you can sell your Crate & Barrel gift card whenever you're ready to get the best offer.
Stay Safe and Secure While Selling Online
At SellGift.Cards, safety and security are top priorities. The platform ensures the protection of both buyers and sellers during transactions, allowing you to sell your Crate & Barrel gift card with confidence.
Don't let your unused Crate & Barrel gift card gather dust. Turn it into instant cash by selling it on SellGift.Cards today. With a user-friendly process and secure platform, you'll have your money in no time.
Top