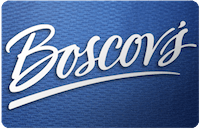 Boscov's sell gift card for cash
As one of the largest family-owned department stores in the United States, Boscov's has been a trusted name in retail since 1914. Offering an extensive range of products, from clothing and accessories to home goods and electronics, Boscov's is a one-stop-shop for all your shopping needs. When you're searching for the ideal gift for your loved ones, look no further than Boscov's gift cards.


Why Choose Boscov's Gift Cards?
Boscov's gift cards open the doors to a world of incredible shopping opportunities. With a vast selection of products and frequent sales events, your friends and family will enjoy a seamless shopping experience while finding items that cater to their unique tastes and preferences.
The Benefits of Boscov's Gift Cards
1. Extensive Product Selection: Boscov's offers a wide variety of products, including clothing, accessories, cosmetics, home goods, and electronics. With a Boscov's gift card, your loved ones will have no trouble finding the perfect item.
2. Frequent Sales and Discounts: Boscov's is known for its amazing deals and sales events, ensuring that your gift card recipients can stretch their budget and enjoy even more incredible products.
3. Convenient Shopping: Boscov's gift cards can be used both online and in-store, making it easy for your loved ones to shop from the comfort of their homes or visit any of the brand's retail locations.
4. Customizable Value: You can choose the value of the gift card according to your budget, ensuring that your present is both thoughtful and practical.
5. Perfect for Any Occasion: Boscov's gift cards are versatile and suitable for any celebration – birthdays, holidays, anniversaries, or simply as a token of appreciation.
How to Purchase a Boscov's Gift Card
Purchasing a Boscov's gift card is quick and hassle-free. Simply visit their official website or any Boscov's retail store, select the desired card value, and complete the transaction. You can choose between a physical gift card or a convenient e-gift card, which can be sent directly to the recipient's email.
Make Every Occasion Special with Boscov's Gift Cards
With a wide range of products, incredible deals, and a commitment to customer satisfaction, Boscov's has everything you need to make gift-giving an unforgettable experience. Choose a Boscov's gift card for your loved ones and let them enjoy the ultimate shopping adventure today.
Top