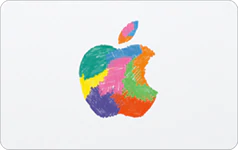 Apple | Itunes sell gift card for cash
iTunes/Apple Store Gift Cards for True Lovers of Online Entertainment
Movies, series, music, games, useful programs - all this can be given to you by the iTunes / Apple Store card. It is this product that can be described as follows: one card is an ocean of possibilities. We sell gift cards for cash or bank transfer. Use to purchase digital content:
● applications;
● games;
● music albums;
● films;
● Various iCloud subscriptions.
iTunes/Apple Store face value
An iTunes gift card for online purchases in the Apple Store is available in the following denominations - 200, 500, 1,000, 1,500, and 3,000 conventional units. Cards are sold online. There is also the practice of trading gift cards.
Conclusion
iTunes gift cards are a good way to pay for items if you don't have a credit card, or if you're traveling and want to make a purchase from the iTunes Store in another country. With this unique purchase, you will now have no limits in the vast and exciting world of digital services offered by Apple.
Top