Blog
A gift card with which your friend will not go hungry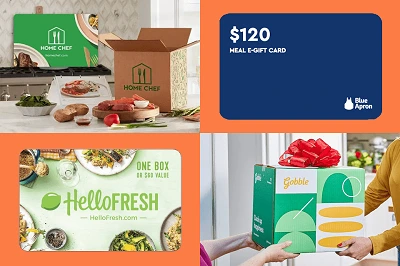 The rhythm of life of modern man dictates its conditions. Every day is similar to the previous one and consists of repeating events: getting up - getting ready for work - road-work-road-home. And so almost every day. And quite often there may not be enough time to buy groceries, or cook food. In this case, people order food at home. That is why gift cards from the most famous food deliveries are popular, through which you can order your favorite culinary masterpieces right to your doorstep.
Who will be happy with such a gift
A certificate for food delivery can be given to any person in honor of a holiday or just because, but it is especially important to give such a gift to the following categories of people:
1. The family in which the newborn appeared. A baby in a family is always troublesome and sometimes young parents do not have enough time to cook a casserole or something healthy and tasty from the children's menu. In this case, a food delivery card will help.
2. A special category of people who simply need to give gift cards for food delivery are students. As a rule, students of schools and universities have no time to think about cooking. Their thoughts are occupied with studying, preparing or passing a session, and so on. Students can spend the whole day and night preparing for exams, forgetting about food. But with a food delivery gift card, your child will never go hungry.
3. Native people who are ill or are experiencing financial difficulties. Show care and send him a food delivery gift card. A person close to you will appreciate your care. And you can support him in difficult times, saving him from household chores.
4. In principle, a food delivery gift card can be given to anyone and without any special reason. The need for food is a basic human need. Therefore, this type of gift card will always be a necessary and useful gift.
Choice of food delivery gift cards
For the gift to be successful, you should choose a food delivery company, focusing on the reviews and characteristics of the companies, and only after a thorough analysis buys gift cards. Let's list the best delivery companies in 2022, and you will understand which gift card is better to buy on the site https://sellgift.cards/buy-gift-cards/category/Restaurants.
Uber cards
Uber has been known in the food delivery market for decades. The company cooperates with 46 thousand of the best restaurants in the country, the network is extended to 24 countries and 71 cities. With the help of Uber, you can order both diet food and a whole banquet. With an Uber card, the recipient can pay for the cost of the food itself and delivery, but the tip will have to be sent separately via Paypal.
Uber gift cards are available in the form of a plastic card, as well as in the format of an electronic certificate, which is easy to send to the addressee by email or smartphone.
DoorDash Cards
This is a competitor to Uber, which has been in the food delivery market for at least five years. Provides services in more than 1500 cities. Collaborates with 200 thousand restaurants. Through DoorDash, you can deliver desserts, fast food, full meals, and more. The only caveat is that there are no electronic gift cards in DoorDash yet, but you can order a plastic gift card, which will be delivered to the addressee on time.
Grubhub Maps
The company has partners and connections with more than 140,000 US restaurants, so you can order any dish from the menu presented by the establishments. Delivery can be arranged urgently or for a certain time. In addition, Grubhub provides delivery services at an affordable price.
The Grubhub gift card is easy to order and even easier to use. When placing an order, click the "Use a gift card" button, enter its number and funds will be debited from this account, covering the amount of the order, including delivery.
The perfect gift for everyone
The online catalog https://sellgift.cards/ contains the above described and other popular electronic gift cards for goods and services of well-known brands. The advantages are flexible denominations, and the ability to choose your certificate design and write the text of congratulations. The card can be easily purchased online and instantly sent to the recipient's email. Contact us!

Top