Blog
Gift Cards for Food Delivery: Choose the Right Gift Certificate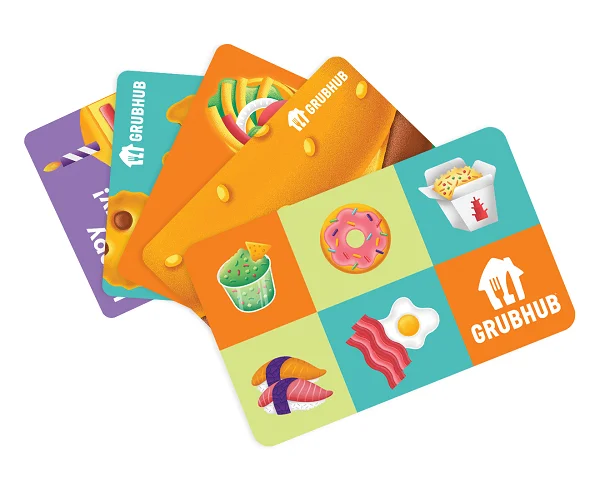 In this article, you will find a few simple tips to help you choose the best food delivery card. What is the difference between Uber Eats, Grubhub, DoorDash, and Postmates? We'll help you understand the difference and choose wisely.
The Benefits of Food Delivery Gift Cards


Not too long ago, if you wanted to order food to take home, you had to make a simple choice between Chinese food and pizza. But with the advent of a sufficient number of ready-made food delivery services, the range for ordering has expanded significantly.


Now you can order both burgers and sushi, various types of fast food, exclusive cupcakes of incredible beauty, and whatever you want. And the gift cards of services such as Grubhub, Uber Eats, or DoorDash that have appeared on sale have made the process of food delivery convenient and simply saving in many situations, for example, such:


A new member of the family. Have your friends got a little baby? And now they can't take the time to make their favorite cottage cheese casserole that their eldest daughter loves so much? No problem - just send them an Uber Eats gift card and they can order their favorite meals hassle-free.


Save a student from hunger. Preparing for exams often takes all your free time, so there is no time left for cooking. But the Grubhub gift card you'll kindly provide to this hard-working young man will allow you to get delicious food right from the comfort of your own home.


A friend in a difficult situation. Do you want to support a friend or girlfriend who, for various reasons, simply does not have the opportunity to cook their own dinner? Postmates or Doordash Gift Cards are a simple and gallant way to help in a subtle yet effective way. The people close to you will feel your care and attention.


There can be many similar situations, you can also send someone a food delivery gift card just for no reason, just because you wanted to please this person. Such certificates are a good gift at any time of the year because we are always happy to treat ourselves to our favorite dishes from a well-known restaurant. Or try something new, everyone will choose for themselves.
Essential food delivery services
There are many such services, but only 4 companies can be named that operate globally in the American market. What is special about their prepaid certificates?
Gift Cards Uber Eats
This company will allow you to order dishes in more than 46 thousand restaurants and this list is constantly expanding. The possibilities for choosing food are also quite wide: you can sort the menu by popularity, type of cuisine, compliance with healthy eating standards, and other parameters.
Uber Eats gift cards can be used to pay for the food ordered and delivered, but for tips, you will need to use PayPal or cash. Uber Eats prepaid certificates can be bought in physical and electronic forms. They are sold in stores, restaurants, and on the Internet. You can have them sent to your loved ones, making these gift cards a convenient gift.
Gift Cards Grubhub
This service covers more than 2,700 cities across the country with its food delivery capabilities. You will be able to order food in more than 140,000 restaurants throughout the United States.
Checkout is similar to how you do it with Uber Eats, but Grubhub gives you even more options for choosing and sorting dishes. When choosing food, be aware that many restaurants have a minimum order amount, and they charge about $5-8 for delivery. As with many other food delivery gift cards, Grubhub certificates can be used to pay for the order itself and its delivery, and have cash ready to pay for the tip.
Grubhub gift cards come in both physical and virtual forms, with the latter having an interesting delayed delivery feature. They can come to the recipient's address immediately after payment or appear at his place by a certain date. This way you can prepare a surprise congratulation in advance, for example, paying for a gala dinner for your parents on the day of the wedding anniversary.
For New Yorkers, there is also a Seamless gift card option - it is part of the Grubhub certificate group, but has a limited areola of use.
Gift cards DoorDash
The company operates in more than 1,500 cities in the United States. Opportunities for filtering the search for the dishes you need in this service are slightly less than in Grubhub or Uber Eats, but you will definitely find something for yourself. More than 200 thousand restaurants are served in the DoorDash system, so you can definitely choose the food you like.
The company currently only issues physical versions of gift cards that can be purchased online or in retail stores. DoorDash is developing a system of bonus savings when users can receive a free dessert from a certain restaurant or free delivery of ordered food. Up-to-date offers are always published on the company's social media accounts.
Gift Cards Postmates
This company gives a significantly greater choice to its users. You can choose from over half a million items to purchase. These include prepared food, groceries, beverages, and other items from retail stores. A recent press release from the company states that "Postmates is the leader with the widest choice of on-demand delivery."
For example, you feel unwell and decide to have Postmates bring you hot chicken soup from a restaurant, some groceries from the grocery store, and the medicines you need from the pharmacy. The company will be happy to fulfill your order, and you will save energy for the speedy improvement of your well-being.
Postmates also has a monthly subscription service so that customers can get free shipping on their ordered items. If you want to buy a gift card with as many choices as possible, buy Postmates prepaid vouchers.
These gift cards are available in digital format only. You can buy them directly on the company's website or through the branded application on your smartphone or tablet.
Food Delivery with Visa Gift Cards
This is a universal means to please someone with a delicious lunch, breakfast, or dinner if you do not understand the preferences of the certificate recipient at all. The Visa gift card is universal and is not limited to any list of served restaurants. It is suitable in almost 100% of cases when food from a catering establishment can be ordered to go.
Of course, you cannot be sure that the person who receives the certificate will spend it on delicious food, as you would like it to be. But it is normal. But the recipient of the card will have a free and conscious choice, which will give him the opportunity to receive at this particular moment in time exactly what is needed most now.
Maybe a specific restaurant gift card is the best solution?
Yes, you can please your loved ones with a gift certificate from your favorite restaurant, which you love to go to together so much. But keep in mind that just a standalone gift card from any restaurant will not be supported by the websites and apps of these popular food delivery services that we described above.
If you want to create comfortable and hassle-free conditions for the choice of ordered dishes, it is better to use prepaid certificates of the described four companies operating globally. Each of them offers a decent or even better selection of a variety of dishes and food, so you can't go wrong with a gift.
Top